Struggling to finish a level in Wordscapes? Look no further, we have ALL of the Wordscapes answers and update them on a regular basis. We're the original Wordscapes cheat site and still the best with over 19,000 Wordscapes answers!
What is Wordscapes?
Wordscapes is a crossword-styled puzzle game where you create words out of a set of letters. With those letters, you swipe to connect them into words which, if valid, will fill out the crossword. Each level has a new set of letters and progressively gets more difficult.
The game was created by PeopleFun and released on Android and iOS. Over the years, it has gained over 10 million downloads and has consistently been one of the top word games available on mobile. Its thousands of levels, addictive gameplay, and relaxing experience are what attract so many players.
How to Play Wordscapes
To play Wordscapes, swipe the letters together in the circle to connect them into a word. If the word is part of the crossword, it will automatically fill in its position. This makes it so that the more Wordscapes answers you find, the easier it will be to complete the level.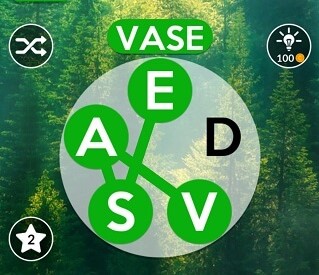 If you are having a difficult time finding a word, you can use a hint by spending a certain amount of coins. Currently, there are three different types of hints. The Lightbulb makes a random letter appear on the board, the Firework explodes and shows multiple random letters, and the Bullseye allows you to choose where the letter will be revealed.
If you don't have enough coins, you can buy more in the Shop or earn them for free by watching a video or doing a survey. Plus if that's not an option, try using the Shuffle button to mix up the letters. This can help you see the letters in a different way to spot a new word you missed before.
Wordscapes Help and Tips
Completing Levels
The levels can get very tricky down the road, especially when it reaches up to 6 and 7 letters. So one way to make finishing them easier is by first focusing on the shorter words. This way the crossword will be more filled out to help you see the letters that make up the longer words.
As well, try making words you have already found to be plural by adding an "s" at the end. There can be many instances where this is the case for longer spaces. Also, make sure to utilize the shuffle and hints if you have enough coins to spare.
If you want the fastest and easiest way to finish a level you can use our Wordscapes cheat to find all the Wordscapes answers. Just navigate to the level or use the search bar at the top. At the answer page it will show you all the words, where they are in the crossword, and all the bonus words.
Getting Coins
Coins can be quite valuable when the game gets tough, particularly when you have run out of them. So when you first start the game, try not to use any coins until it gets up to at least 5 or 6-letter words. You'll want to have as much as possible when the game gets at its most difficult.
One of the best ways to get coins during a level is by solving the challenge word and finding bonus words. It's not the most effective to obtain a large number of coins like from watching videos. But it's a great way to gain more over time when done at each level.
Another good way to obtain free coins is by completing the Wordscapes Daily Puzzles. Doing this everyday will progressively reward a higher number of coins. However, it depends on how many stars you get from the level.
One way to guarantee that you get the most stars is by completing the crossword in the order of the butterflies. And if that gets too difficult, you can go to our Daily Puzzle answer page which shows all the Wordscapes answers with their placements on the board so you can solve each word where the butterfly is.
Wordscapes Bonus Words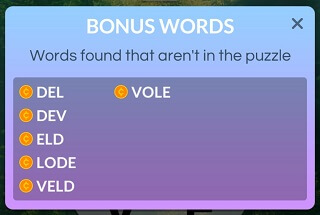 Bonus words in Wordscapes are extra words in a level you can find for coins. They are not required to complete the level and are redeemed when you finish. Each bonus word found will reward one coin.
That may not seem like very much. But some levels can have upwards of 15 bonus words! If you'd like to find them all you can view the answer page of your level on our site. There it will list all the available bonus words so you can get the most coins possible.
Wordcapes for PC and Online
If you don't have a mobile device available or just want to play on your PC, there's a great way to play the game with Facebook. Just head over to the Wordscapes Facebook page and click on the blue button that says Play Game at the top.
This will take you to a new tab with the game laid out just like the original. It's a super simple way to play online and will save your progress with your Facebook account. Don't worry, our Wordscapes cheats still work for the Facebook version!
How many levels are in Wordscapes?
One of the best features for Wordscapes fans is that there are so many levels. In fact, after the first 6000 it goes on to master levels which are endless! So there's no end to the fun that is Wordscapes especially if you like a challenge.
But since they can get pretty tough, we have master level Wordscapes answers all the way up to 19,999! These also include all the bonus words so you can really rack up the points.